Children's Delight Playsets
Playsets
Children's Delight playsets and playhouses are constructed from #1 premium lumber. After treatment, lumber is air or kiln dried to reduce the potential for severe shrinkage or cracking once exposed to the sun. To extend the life of your playset, we recommend all playsets have a stain/sealant applied within it's first year. If so desired, we can provide this service before delivery.
Standard playsets come with a 4×4 overhead swing pole beam, but for older children, or if parents plan to use it as well, we recommend a heavy duty laminated 4×6 overhead beam.
Click Images Below to Enlarge
| | |
| --- | --- |
| Options as Pictured | Stained Price |
| Option #1 | 5,495.00 |
| Option #2 | 1,545.00 |
| Option #3 | 1,995.00 |
| Option #4 | 2,495.00 |
| Option #5 | 2,995.00 |
| Option #6 | Not Available |
| Option #7 | 3,395.00 |
| Option #8 | 4,895.00 |
| Option #9 | 5,595.00 |
| | |
---
ACCESSORIES & OPTIONS
---
Custom Playsets
In addition to the standard sets we normally build and sell, we specialize in custom building according to the customer's specific needs or a child's imagination. Take a look at a few examples of our custom designs and let your imagination run wild. Have questions? Call Tim at 606-748-2219.
Click Images Below to Enlarge
Does your child have special needs? Children's Delight playsets can be custom built to accomadate your specific needs.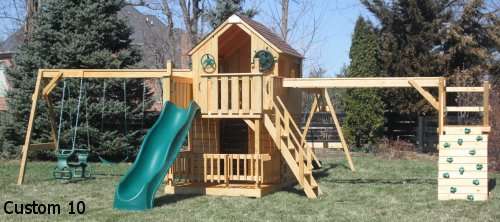 ---
Delivery Reminder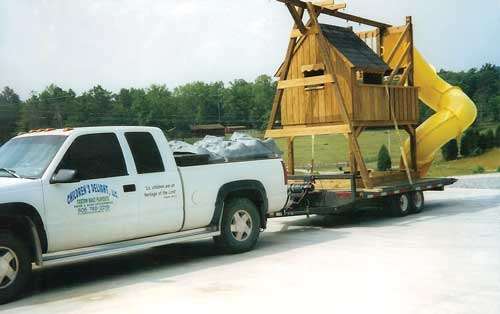 For delivery and installation, we need enough room for a truck and trailer to get close to the site. We slide the house off the back of a small 7×12 trailer with tilt, then attach the A-frame pole and slide and any other optional accessories.
Delivery and Setup within 30 Miles – (FREE)
*Standard gymset 4 x6 and larger includes steering wheel, grab handles, phone &telescope, choice of regular swings, ring/trapeze combo and regular baby swing. A-frame legs will be anchored securely to the ground at time of delivery.

ATTENTION
**Playsets are solidly constructed in our shop and delivered with a small truck and trailer. Before scheduling delivery, please be sure your yards and any gates are large enough to get through. Not responsible for yard damage.
---
Children's Delight is an authorized dealer of Swing-N-Slide and Childworks. Click on their logos for a complete listing of available products.